At Eastbourne Tree Care, out team have been providing tree surgery to clients in East Sussex for many years. Our experienced team has all the skills and expertise necessary to promptly get the job completed without any fuss.
If you are looking to have an old tree removed, or require tree cutting, shaping, or pruning carried out then you can rest assured that we will take care of your needs.
With every service that we offer we are constantly making sure that safety is of the highest priority. Tree surgery can be dangerous, and ensuring the well-being of our customers and persons in the surrounding areas is paramount to us. We will also always do our utmost to ensure that public access does not become blocked whilst we carry out our work.
Planning is key to all the work we undertake. Often, trees can be located in positions that are difficult to gain access to or even close to buildings or power lines. Whatever the scenario is, we will be well prepared so that the works we are undertaking are carried out with the least disruption and will ensure the longevity of your trees and the safety of you and your property.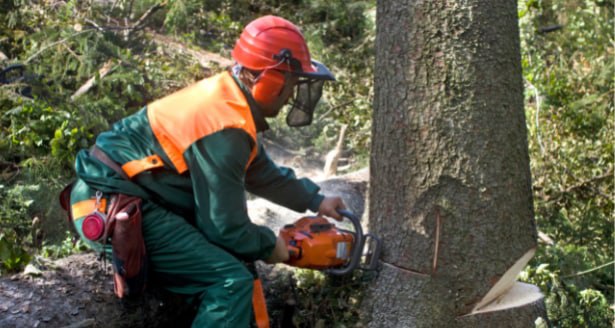 What is tree surgery?
Tree surgery is the art and science of caring for trees. It involves various activities, from planting and pruning to felling and stump removal. Tree surgeons are trained to understand the needs of trees and how to maintain their health and appearance, at Eastbourne Tree Care we have all the necessary skills to take care of any tree works that you may require.
Why do I need tree surgery?
There can be numerous reasons why you may need tree surgery. Perhaps you have a damaged tree that needs to be trimmed, or you want to remove a tree that is causing problems. Eastbourne Tree Care can also help you maintain the health and appearance of your trees by carrying out regular pruning and maintenance.
What are the benefits of tree surgery?
Tree surgery can offer many benefits, both to you and the environment. By carrying out tree surgery, you can improve the health of your trees and make them look more attractive. This can add value to your property and make your garden or outdoor space more enjoyable. Tree surgery can also help improve the local environment by providing habitat for wildlife, improving air quality, and helping to combat flooding.
How much does tree surgery cost?
The cost of tree surgery can vary depending on the size and condition of your tree and the type of work that needs to be carried out. We are available to give you a free quotation based on the work that need to be done, and we always try to be the most competitive company in the area. Feel free to call us anytime to discuss your project.
Is planning permission required for tree surgery?
You might need to get planning permission for tree surgery if the tree is located in a conservation area or is protected by a tree preservation order. At Eastbourne Tree Care we can advise you on whether you need planning permission and help you apply for it if necessary.
What should I look for in a tree surgeon?
When choosing a tree surgeon, it is essential to ensure that they are qualified and experienced. Tree surgeons should be able to provide you with references from previous clients and have necessary insurances in place. At Eastbourne Tree Care we can provide all necessary credentials should you wish to see them.
What are the risks of tree surgery?
Tree surgery can be a dangerous job, and that is why it is essential to ensure that your tree surgeon is fully insured. Tree surgery should only be carried out by experienced professionals who have the necessary equipment and safety gear. With Eastbourne Tree Care you can have total peace of mind knowing that you are in safe hands.
I've had issues with an oak tree for some time, and have had various tree surgeons assess it, but most were either unsure how to tackle its removal or their prices were exceptionally high. After speaking to Kanye, he promptly arranged a site visit, and worked out a plan of action on how to remove it. I would totally recommend him to anyone looking for a professional arborist.
Kanye has been attending to my hedges and tree felling needs for some time now.
He is reliable, trustworthy, and takes great pride in everything he does. His knowledge is also vast.
I can honestly say it is a pleasure to have him working for me. 10/10 from me!!
We cover all of Eastbourne and the surrounding areas of East Sussex. If you found our site by searching for 'Tree Surgery near me' or 'tree felling near me' then we almost certainly will cover your area too.
Whatever your requirements are, please do get in touch and we will take care of your needs swiftly.